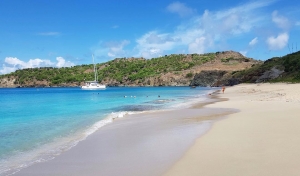 It's been a while since our last season update and we have a lot to share. We've been quite busy since December and are excited to report as of March the 2017 season is off to a fabulous start. We have had many new clients aboard ARAVILLA showcasing our beautiful surroundings. This has been an amazing experience for us and the guests have thoroughly enjoyed themselves too. It seems every charter ends the same way — with the guests begging to stay longer. This is the best form of flattery we receive. Some additional highlights have been visits from close family and friends; sharing our new home and recharging with them means more than you can imagine!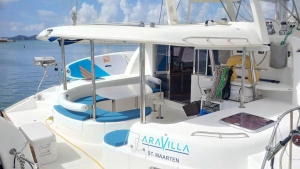 There have been many yacht updates during our few downtimes this season. ARAVILLA was retrofit with a new large bank of solar panels early in the season. Upgrades of this kind require us to run the generator less often, or in most cases, not at all. The quiet is truly wonderful especially in the tranquil anchorages. We've completely refit our cockpit and salon upholstery with upgraded materials and styles to ensure maximum guest comfort. We have also replaced all bedding and towels in cabin which has been a big hit with all guests. For the more active among us we have paddle boards, which have seen a lot of use this year, and 10 new sets of snorkel gear to explore the underwater worlds.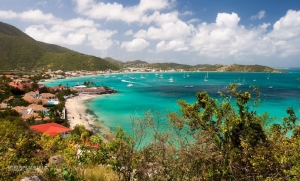 If you're thinking of an escape to the turquoise waters of the Caribbean with spectacular white sand beaches and warm tropical breezes, we guarantee it will help recharge your batteries and get you through the rest of winter. Come south and let us spoil you aboard ARAVILLA. We have openings after mid-March and continue to offer an all-inclusive, fully-crewed, 7-day Caribbean experience on our 46ft catamaran. Destinations include St Maarten, St Barth's, Anguilla, and are entirely customized to your group. These are some of the most beautiful islands in the world and offer a truly unique experience only seen from the water.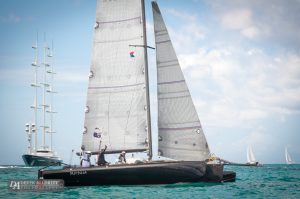 Another amazing experience this year was being able to assist with the annual Heineken Regatta. This is the largest warm water regatta in the world with nearly 200 boats competing over 4 days of events. We were asked to be the official finish boat to which we gladly agreed. The days themselves can be filled with stress as these highly competitive boats finish fast and in bunches (sometimes sailing directly at our boat!!!) we had a blast and met amazing people. We also had the privilege of having the official CSA Technical Measurer and Naval Architect stay aboard ARAVILLA for a week. To impress an experienced sailor with your yacht, there are little smiles inside. To top off the week we attended the MYA/UB-40 show on Sunday night. A great way to end the regatta experience and we will be back next year.
If you're interested in witnessing this world famous regatta first-hand, please get in touch with us as this is not to be missed if you're a sailing enthusiast, or possibly a competitor.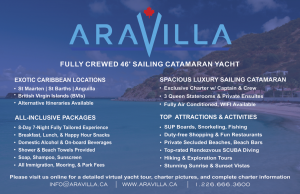 If you would like to live the dream with us for a week, please reach out. We also would appreciate your assistance in sharing this communication with your networks or anyone who may be interested in learning more. We've created a
brochure
outlining the highlights offered during your experience with ARAVILLA. Find additional information, including available dates, charter details, and client testimonials at
www.aravilla.ca
. You should also visit and like our
Facebook page
and leave any feedback you have. We will be uploading many more photos and galleries, and doing another update very soon on some promotions that we are running from mid-March to end of May for anyone looking for last minute getaway deals.
Don't forget to check out our YouTube video of ARAVILLA in action that one of our guests shot for us at
Thank you to each and every one of you, and we hope to share a sundown beverage soon!
Derek & Cindy
ARAVILLA