How to Pack and What to Bring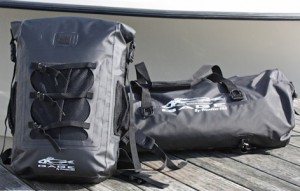 What to bring on your charter vacation is an important component of your charter that actually begins before you leave home. Packing is part art, part science, and part personal preference. Ensuring you have the essentials will have a direct impact on a positive overall experience. We've developed a list of what our guests will need, what they will want, and what they simply won't miss by leaving at home. If you have any questions or are uncertain about an item, please feel free to contact us. Let's start with the most important – the NEED list!
What Will You NEED
The most important thing you can bring is, of course, yourself! We also suggest arriving with an expectation to have a truly memorable experience aboard ARAVILLA. When it comes to actual physical items we suggest you do not leave home without the following:
Travel & Identification Documents – these include passports, proof of citizenship, visas, drivers licence (if you plan to drive on-island), plane tickets, and any specific papers you may require for travel outside your home country. We will ensure these are secure in the on-board safe.
Cash & Credit/Debit Cards – while most of your charter expenses are included in the charter cost, there are still occasions where having some spending money is required. The most commonly used currencies are USD or Euros, typically offered at $1 = €1 when using cash. Credit Cards, where offered, are specific to the vendor. It may be prudent to verify with your bank that your debit / credit cards will work in the cruising area. And remember the PINs!
Insurance Information – ensure you're traveling with your out of country insurance cards and emergency contact information. We will collect some data prior to the start of the charter, however most plans require you to be in possession of a card.
Special Medications – if you require any specific medications, we strongly suggest you bring a large enough supply to fulfill your time away. There is no guarantee local pharmacies will have, or fill, a required prescription for you. Additionally, the cost of a prescription might be significantly higher. Best to come over-prepared, and to let us know in advance so we can help manage any needs.
Soft-Sided Duffel Bags – we strongly suggest soft-sided duffel bags (water-resistant is even better). This style of bag can be easily folded up and stowed after you're unpacked– advantageous on a yacht where cabin space is at a premium. Secondly, these bags prevent damage to the yacht itself during on-boarding which we greatly appreciate.
Footwear – we prefer that clients leave their street shoes in our shoe basket (on-deck) or in their cabins. We certainly don't mind guests going barefoot or wearing clean, comfortable, light-soled shoes aboard. Best advice is, don't overdo it on shoes. For swimming we suggest bringing a pair of water shoes in case of sharp rocks or urchins.
Bathing Suits (of course!) – you will likely spend most of your time in your bathing suits – whether sailing, swimming, or lounging. Light cover-ups can be useful for those long days in the sun.
Sunscreen, Hats, Sunglasses – we ask clients to avoid packing sunscreens containing oil, which can stain teak decks, canvas decks, as well as cushions and bedding. We will have some sunscreen available on-board. If you need something specific we ask you to bring that along or let us know in advance. Hats and sunglasses are a must as you will live in them. Polarizing sunglasses are recommended for on-water use as are Croakies.
Clothing – plenty of T-shirts and shorts. Dress is casual in the islands and it is typically acceptable to wear shorts and T-shirts ashore to dinner. Slacks and a collared shirt or light dress for the ladies are a better choice for some of the more "formal" places. You'll want light sleepwear. A light windbreaker (for up on deck at night or for those afternoon showers while sailing) works well.
Cameras – part of our charter experience is capturing the beautiful vistas we visit based on our knowledge of the area. We send you home with many of these digital memories. This means we have an on-board DSLR and water-proof camera for our use. We recommend you bring your own cameras for those special moments, or for bragging to friends on social media during the charter.
Seasickness Medication – although the catamaran design is a very stable one, sometimes people who don't typically suffer seasickness do. Whether you're prone to motion sickness or not, a little stash of sickness meds is a good idea. We typically have some on-board for emergencies. We do suggest the "non-drowsy" formulas.  Taking something a few hours before you board is a good idea – it will give your body a chance to get used to and adapt to the motion of the boat. We recommend discussing this with your physician and/or pharmacist before leaving.
What Will You WANT
Above is the list of the basics to ensure you can have the best experience possible. Next we'll cover off some of the items you may want to bring depending on your trip expectations.
Pack Everything, Then Reduce By Half – the most common mistake people make on a yacht-charter vacation is bringing too much stuff. The lifestyle on-board is very casual and in these tropical locales, you won't need to bring too many clothes to meet your daily needs. Some (light) formal clothing may be required if you're planning nice dinners out. As a reminder, space is limited in the cabin and packing accordingly will benefit your experience.
Electronics

Media Players / Tablets / Phones – we have a stereo which you can connect these devices to, to enjoy your personal music. We also have the ability to connect to our navigation system through a smartphone app.We also offer on-board WiFi (where available) for client use.
Laptops / Tablets – If you do bring a computer or tablet, we remind you that a yacht can be a wet environment – please plan accordingly. For any urgent or emergency needs, we do have an on-board laptop for limited use.
Chargers – we have both a generator and inverter, so guests can readily recharge cameras, laptops, and other small electrical items via standard AC outlets. The yacht voltage is 120v.

Earplugs – if you have sensitive-sleeping patterns we recommend bringing earplugs. Ports or anchorages can often be abuzz until the wee hours depending on location. There may also be on-board noise from your crew or boat, and other boats may pull in/out early or late depending on their own schedules.
Lightweight Sweater / Fleece – amazingly, even with the tropical temperatures, after a long day in the sun you may find yourself with sun-chills. A light sweater or fleece is a good article of clothing to pack.
Day Pack – it's a good idea to have some kind of day pack or fanny pack that will let you carry money, sunglasses, passport, guide books, a water bottle, sunscreen, or anything else you might need ashore.
Dry Sack – these bags are invaluable if you plan to take anything water sensitive with you between the yacht and shore. Typically one per-couple works well. We sometimes have extras available on-board.
Scuba & Snorkeling Gear – if you expect to partake in these activities while on charter, please feel free to bring this gear along. We can also arrange rentals for both through dive shops we're familiar with that offer top-quality gear. We have several sets of snorkeling equipment on-board for client use as well. It's advisable to bring a UV protective rash guard shirt if you plan to snorkel.
Books / e-Book Reader / Magazines – expect there to be lots of time to catch up on reading if you need.
Handheld GPS / Marine Binoculars – if you own either of these, feel free to bring them and track your vacation!
What Can You Leave AT HOME
A lot of things seem good in theory, however you'll find they end up less than useful on charter. Below are some examples we have seen. If you have a question about anything, just ask and we can certainly give advice, or may even have it on-board already.
A lot of jewelry – it is really not necessary to wear it while sailing. On deck, there will be wind – necklaces and loose jewelry can become tangled in lines or hair easily and create a dangerous situation. Rings and bracelets can cause damage to the yacht itself or equipment like sails and ropes. In the water, barracudas have bad eyesight and eat shiny fish – uh oh!
Lots of electronic devices – we encourage you to bring whatever you need on the charter. However we note that energy consumption is limited on-board – we're not plugged in constantly. The fewer devices you have to worry about in a rough and wet environment, the better.
Electric hair implements – as noted above, there is not a lot of power on-board. It is challenging to run high-wattage blow dryers, curling irons, and straighteners. We do have a small blow dryer available if needed, so please leave yours at home.
Linens / Towels – we will have all linens, bath towels, and beach towels on-board. Save the space in your luggage!