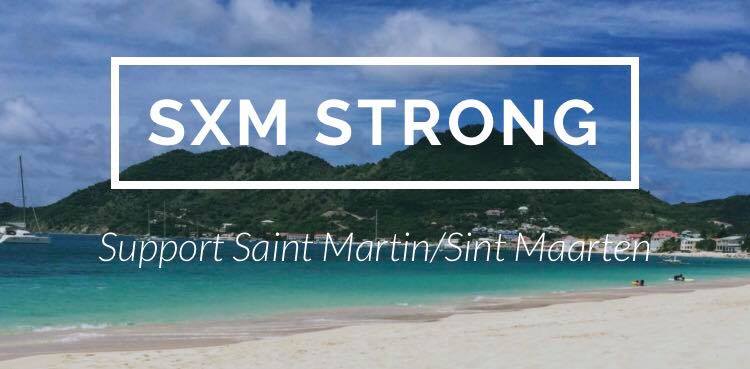 Another update for everyone. Hurricane IRMA is now a week in the rearview mirror. And over the weekend Hurricane JOSE did what is was supposed to do and headed out to sea hitting the island with Tropical Storm winds only (safe to say "only" after the week prior). It has been an incredibly nervous, scary, sad, heart-wrenching, and stressful week. We've definitely overdosed on TV, social media, instant messaging and phone calls. It's also been a week filled with many pockets of positive news and the realization that SXM has one of – if not THE – best communities in the world. The solidarity, level of collaboration, the people helping people, and the global call to action to get assistance to SXM and other impacted nations is amazing. There can never be enough thanks given to all those who help. But thank you, all.
As per the last update, the most important concern is the safety and status of our community. We can now update that everyone in our circle are alive and well. We can't begin to describe how many posts we've scrolled through, how many messages through various degrees of separation we've sent and received, how many broken phones calls we've tried to answer and make, and how many times we've had tears in our eyes at hearing that one more family is safe. Given the nature of what occurred last week and complete devastation, it is nothing short of miraculous to have this outcome. We hope everyone continues to stay safe, and many have already been or are in the process of being evacuated. The island will have limited resources for the next while, and removing any unnecessary strain on these is important. And frankly, some people simply want to leave the nightmare behind for the time being and recharge.
As noted in the last update, our home and business "survived" the ordeal and subsequent Tropical Storm. One heck of a week and we're happy our girl is strong — we love you ARAVILLA. We are still mostly unsure what the detailed condition of the boat is compared to how we left it. We have heard there is some damage that will require repair, but it's being quantified as minor from our perspective given what others are dealing with. At present, it is not a priority for us to try and enable any deeper level of investigation until our resources on the ground have cycles to do so, or, we can arrive and do so ourselves. There is some damage to the boat yard itself which will also require repair before any boats can be relaunched. This will be a process and we're confident it will speed along. All told, another miraculous outcome for us given the extreme nature of what happened last week.
Our island and surrounding neighbours suffered tremendous damage in this last week. The damage to infrastructure, businesses, and housing has been extensive. The damage to people will take some time to heal. But we will heal and get through this — SXM is strong and resilient. However. Adding to this personal injury in the wake of the storm, you may have heard about small groups of truly awful people deciding the next step was to put their own profit ahead of anyone else. There have been reports of looting and from our perspective it cannot be classified as such. Looting is done in a time of war, it is desperation for survival. Water, food, clothing, and medicine theft could be categorized as looting. Breaking into homes and violently assaulting others while thieving TV's and money and smartphones from desperate people is unacceptable. This is not the SXM we know. This is not the SXM that exists normally. And as was shown this last week, it's not the SXM that will be accepted. The locals, the community, the police, and the military shut these criminal down quickly and effectively. Order and friendliness is the natural state of SXM and it has been largely restored.
On that note, the spirit of kindness, of coming together, and of community is taking over. There are countless local businesses now offering whatever supplies they have. There is a video of a restaurant cooking on portable stoves roadside, handing out food to people passing by. Others are taking time to attempt and find family and friend of those inquiring on social media. People with connectivity are allowing others to use their wifi and phone service to send messages. Private boats loaded with supplies are leaving from unaffected islands to make the run to SXM and provide much needed help. And corporately, WestJet and Sunwing have sent planes to evacuate Canadians while also supplying necessary resources or technology to the island. Royal Caribbean even sent an empty cruise ship to SXM to provide supplies and evacuate people to other islands. Truly amazing actions across the board.
Finally, the support of our friends and family around the world is touching and does not go unnoticed. We really do have such a great network. This week was an exceptional situation and one of the reasons we will survive and eventually thrive again is because of you all. Thank you to everyone who sent a message, a thought, called, or otherwise reached out with positivity and offers of help. We'd love to have a definitive answer on how can you help with donations. At present, there seems to be a lot of funding sites popping up, and then being removed or consolidated with others. Ultimately we're trying to be specific about where we donate, and while technology has made this easier in some ways, in others it is more complicated too. Our feelings at present are — while there are great options available, so far they can't yet directly impact our community specifically. We're working to determine the best options to promote within our network and this will be based on the identified needs that are still being assessed on the ground. We ask for patience and do realize we will need support not only in the short term, but the longer term as well. With perhaps the best support ultimately being a visit to the rebuilt island and promoting the greatest little island in the Caribbean. Come see us soon and experience the Friendly Island of St Maarten/St Martin :).
With love and happiness,
Derek & Cindy