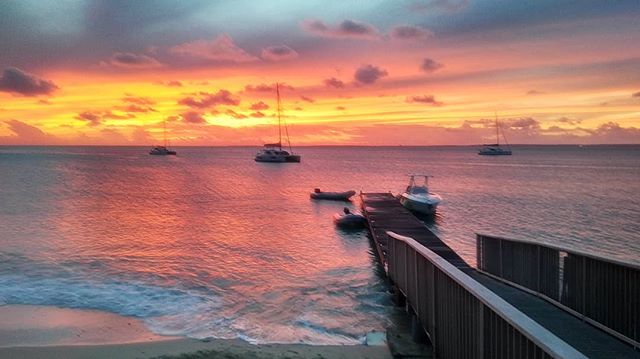 Hello to all! As the sun sets on this season, we are reflecting on what was an unexpected and difficult year.
It started back in late August as Mother Nature bowled three massive storms off Africa and sent them directly at our beautiful island chain. All three ended up being devastating with Irma becoming the strongest Atlantic storm on record, hitting St Maarten directly and doing significant damage to the island and neighbours. The people of the island and many outside came together to put life back together over the last 11 months.
For us, we arrived shortly after the storms and found our boat in decent condition – we have many people on the island to thank for their support with securing Aravilla before and after the storms, as well as those who helped repair and relaunch, and those that provided support or places to stay or just positive energy. To say we have the best friends and colleagues in the business would be an understatement. The island continued to rebuild the way the Friendly Island always has…and we're happy to have been a part of that.
Our charter season started with several cancellations due to the conditions on island – we hope to be able to welcome those guests back at sometime in the future. Then, despite the disappointment we were feeling for our business, something amazing happened…enquiries started to come in from people wanting to help an island they loved…by coming to SXM and supporting the rebuild by bringing their vacations here. We have met some amazing people as a result of this shared love and made some lifetime friends as a result.
With the 2017-2018 season ending for us, we are surprised and amazed at the year it was, and looking even more forward to the 2018-2019. Life will return to normal and many amazing new memories and friendships await. If this is the year to book a vacation of a lifetime with us, please reach out.
Thanks again to everyone this year – you've been a big part of a wild ride.
Cindy & Derek
ARAVILLA
PS – a special note to RIP Chris Davies from Octopus Diving. Chris helped us on countless occasions, asking nothing in return other than friendship. Thank you Chris, this sunset is for you.